There will be two (2) Bonus Drawings held during the sales period of the game. In each Bonus Drawing, one (1) finalist will be chosen from only the internet entries submitted during the announced time period. Each finalist will have the opportunity to win $1,000,000 in an on-field presentation during halftime of a regular season Patriots home game. The deadline for the first Patriots Million Dollar Drive was November 1, 2009. IMPORTANT NOTE: Winning internet entrants must provide the tickets from the selected entry to claim their prize. Photocopies will not be accepted.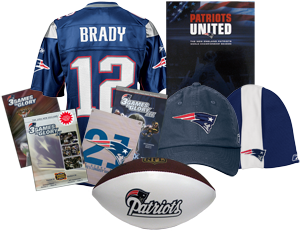 In each of the five (5) drawings, the Lottery will select one (1) winner of a pair of Patriots™ Season Tickets for Life, twenty (20) winners of an Autographed Football Plus Chalk Talk Experience and seven hundred (700) Patriots™ Gear winners. Winners of the Season Tickets for Life and Autographed Football Plus Chalk Talk Experience will be notified by the Lottery and must fill out a claim form. Winners of Patriots™ Gear will be notified by the Patriots™ Prize Fulfillment Center for Gear selections.


Patriots™ Season Tickets for Life winners will be awarded $10,000 (less applicable taxes and withholdings) per year with a minimum guarantee of twenty (20) years and the right to purchase at the then current face value two (2) season tickets in the Level Two seating section at Gillette Stadium™ for the following season. See RULES for additional details.


In each of the five (5) Second Chance Drawings, (20) winners will receive an Autographed Football by a 2009 Starting Patriots™ Player and two (2) tickets to a Chalk Talk with one of the Patriots™ Coordinators at Gillette Stadium™. Winners and a guest will have the unique experience of learning the X's and O's of coaching, as a Patriots™ Coordinator will educate winners and their guests on the research, scouting, and game-planning necessary to prepare for an opponent each week. Additionally, the Chalk Talk will include a catered luncheon and a tour of Gillette Stadium™!

Authentic New England Patriots™ Jersey
This Authentic Patriots™ Jersey is the real deal and has all the same features as the actual jersey worn by the New England Patriots™ on game days. Authentic player jerseys are constructed with heavyweight nylon mesh and the jersey's tackle twill name, numbers and logos are sewn on. Gear winners select jerseys from available sizes (M, L, XL, 2XL) and from current marquee Patriots™ players.
Patriots™ Navy Slouch Cap
An all-time fan favorite, the Patriots™ Navy Slouch Cap in navy is a classic cap that features the famous team logo front and center and a rear strap closure for one size fits all convenience.
Player Knit Hat
The Player Knit hat has a bold design that is sure to stand out in a crowd! Complete with the Patriots™ famous logo this un-cuffed knit hat will help keep you warm all season.
3-Panel Football
Suitable for autographs and display, the Patriots™ 3 Panel Script Logo Football features the Patriots™ scripted logo embossed onto one of three white panels and includes one leather panel that portrays the design of an official game ball.
Patriots United
Every Patriots™ fan should own a copy of this beautifully crafted coffee table book chronicling the New England Patriots™ 2001 World Championship season. With over 400 photos, many never before published in this 224-page hard cover book, it is a must have collectible for any true Patriots™ fan.
"21"
"21" chronicles every game of the Patriots™ record setting winning streak with highlights and insider sideline and locker room footage. Also included is Head Coach Bill Belichick's weekly "Belestrator" segments from the "Patriots™ All Access" TV show where he previewed key factors to look for prior to each game. Plus, bonus content includes exclusive interviews with all the games' playmakers and never-before-seen footage from the Patriots™ ring ceremony!
Three Games to Glory® I, II and III
Relive all the unforgettable drama of each of the Patriots™ three World Championships with this limited edition DVD Set chronicling the Patriots™ run to glory in 2001, 2003 and 2004. Three Games to Glory® I, II and III contain every play from the Patriots™ three World Championship games, exclusive interviews with Patriots™ players and coaches, insider analysis of key plays and behind the scenes bonus footage from the Patriots™ playoff run.